Special Entry for Spring Term ( March, 2022)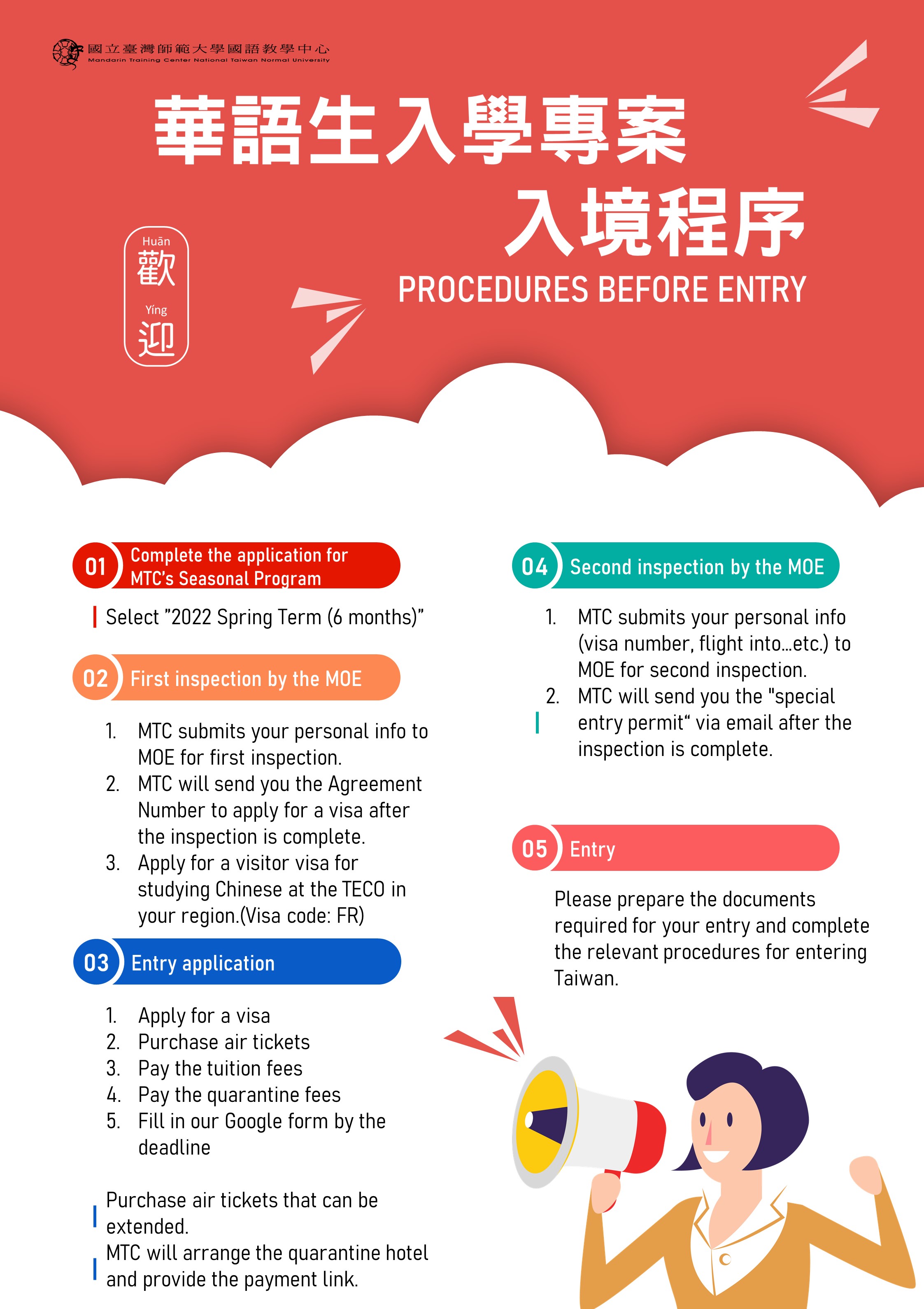 Special Entry for Spring Term ( March, 2022)
The Taiwan Ministry of Education (MOE) announced that starting from March 1st, 2022, students who intend to study Chinese in Taiwan will be allowed to apply for a special entry visa, and specific administrative procedures have to be followed to apply for the visa. Please abide by the regulations of the Taiwan government and cooperate with us to facilitate a smooth entry process.
NOTES to students:
For students who plan to enroll in March, please complete our online registration before January 26th, 2022

Students must continuously study at MTC for

at least six months

and cannot change visa types. The six-month tuition must be paid in one payment before arriving in Taiwan. According to Taiwan CDC regulation, students must stay in qualified quarantine hotels arranged by the school, and the quarantine fees must be paid in one payment before arriving in Taiwan.

Students must provide correct personal information to MTC and enter Taiwan on the dates set by MTC. After receiving all your data, MTC will report to the Ministry of Education to facilitate subsequent administrative procedures for special entry permits.

After arriving in Taiwan, you must keep in contact with MTC, and report your physical condition daily during the quarantine period, so that MTC can report your situation onto the epidemic prevention tracking system.

The Lunar New Year Quarantine Program is not applicable to our students.
A Warm Reminder!
Here are the fees involved in your study in Taiwan, but these are subject to changes.
1. Quarantine hotel fee: 15 nights (including three meals), NT$2,100 to NT$3,000 per night.
2. Quarantine taxi fare: about NT$1,000 to NT$3,000
3. PCR inspection fee: NT$500 per time
4. Tuition, registration, and insurance fees for six months:
l Regular class A (small group): NT$54,358
l Intensive class A (small group): NT$73,558
5. Teaching material fee: about NT$3,000 for textbooks and workbooks
* The announcement of the course information will be adjusted at any time in accordance with the announcement of the Central Epidemic Command Center.
* This project is applicable to Chinese language students who have not yet entered the country. It is not applicable to the Huayu Enrichment Scholarship (HES) or MOFA Scholarship students.
*The entry procedure for Summer Term will be announced in April. Please follow the latest news on our website.
附件下載