2021 Fall-term class information and new student registration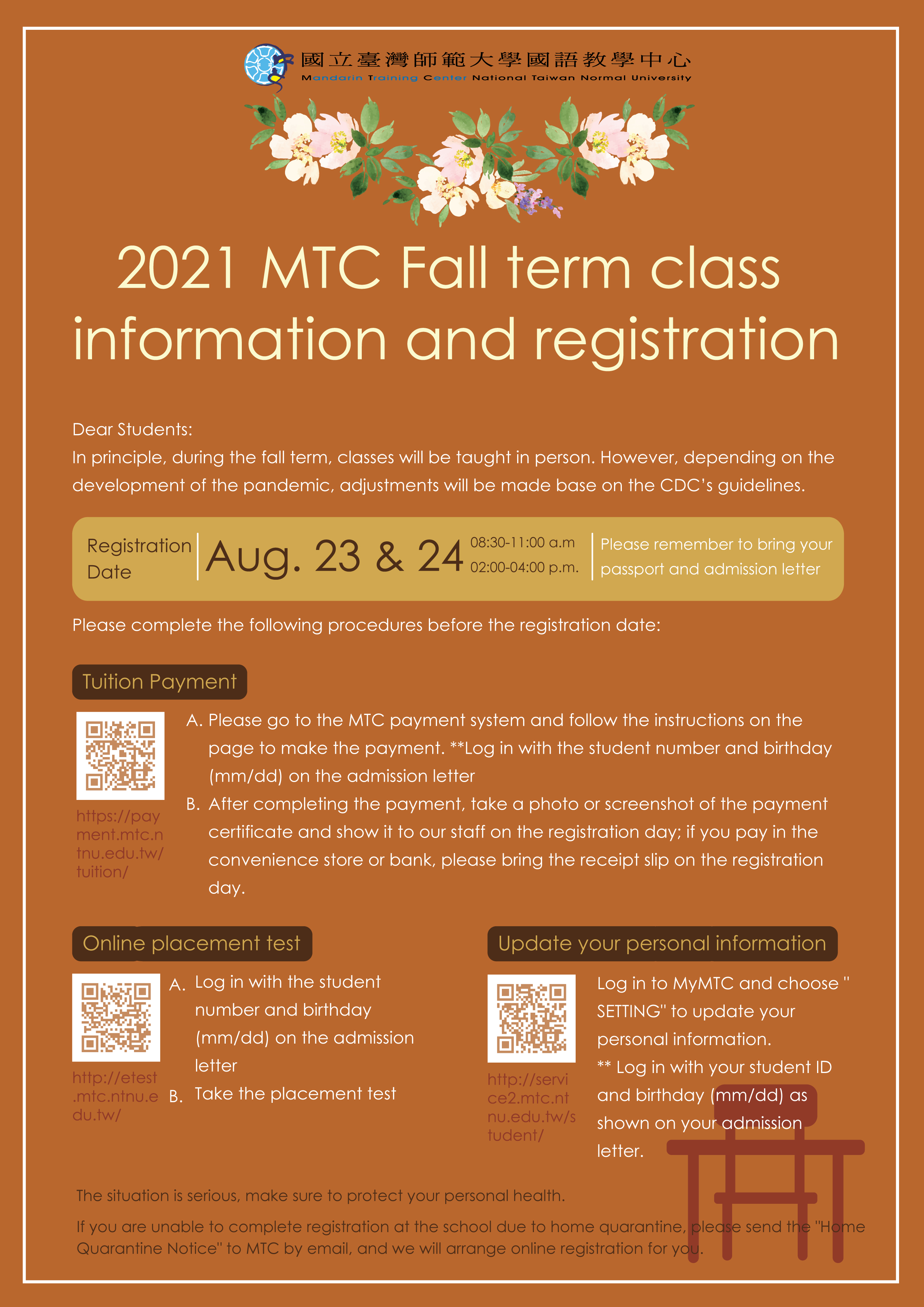 2021 Fall-term class information and new student registration
In principle, during the fall term, classes will be taught in person. However, depending on the development of the pandemic, adjustments will be made base on the CDC's guidelines.
Registration Date: August 23 & 24
Registration Hours: 8:30-11:00 a.m. or 2:00-4:00 p.m. (*Please remember to bring your passport and admission letter)
Please complete the following procedures before the registration date
1. Tuition Payment: https://payment.mtc.ntnu.edu.tw/tuition/
After completing the payment, take a photo or screenshot of the payment certificate and show it to our staff on the registration day;
if you pay in the convenience store or bank, please bring the receipt slip on the registration day.
2. Online placement test: http://etest.mtc.ntnu.edu.tw/
3. Update your personal information in MyMTC ( Log in to MyMTC and choose " SETTING" to update your personal information.)
Other considerations:
Campus Entry Access Control and Temperature Checks
1. Real-name system and temperature checks will be enforced at all entry point around the clock (including holidays), students must present NTNU DayPass, you are only allowed entry after passing temperature check.
2. You must wear a mask and scan the QR CODE at the checkpoint when entering campus and register the result of your temperature check.
3. The situation is serious, make sure to protect your personal health.
4. If you are unable to complete registration at the school due to home quarantine, please send the "Home Quarantine Notice" to MTC by email, and we will arrange online registration for you.
5.According to the MOE regulation, all foreign students need to finish 7 days of self-management to enter the campus. During the self- health management period, students are not allowed to get onto the campus and are prohibited from going to crowded places such as markets, restaurants, nightclubs, department stores, tourist destinations, etc.. Students must wear a medical mask and maintain social distance all the time.
附件下載